Since 1992, artist Bruce Cayonne has been painting fete signs. His influence on the visual landscape of Trinidad and Tobago spans generations. This website is an ongoing archive of his work and an audio-visual reference for students discovering his work.
#FETESIGN
Signs
The thumbnails below include all the works from the
Once Upon a Fete
exhibition in February 2021.
Photos: Kibwe Brathwaite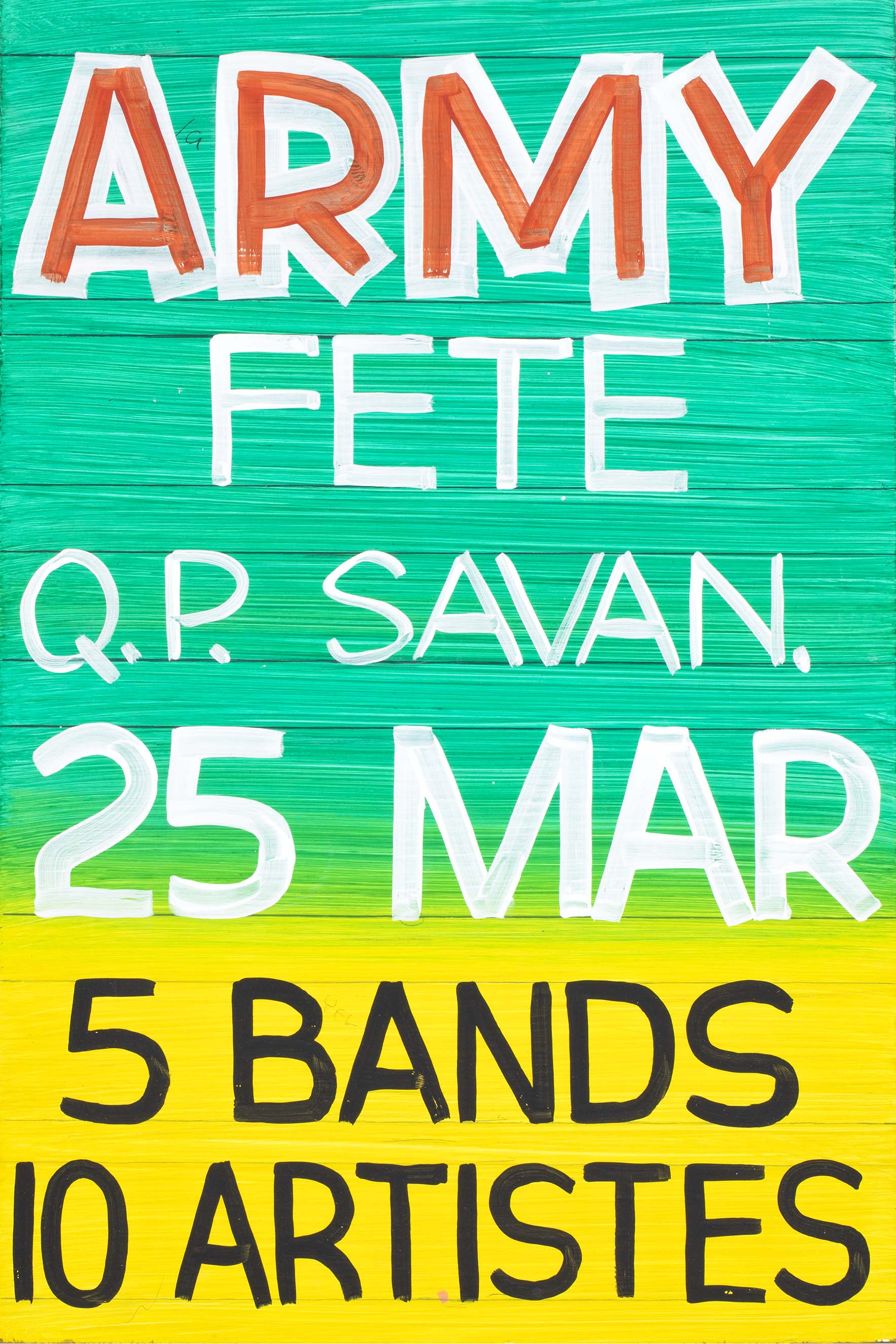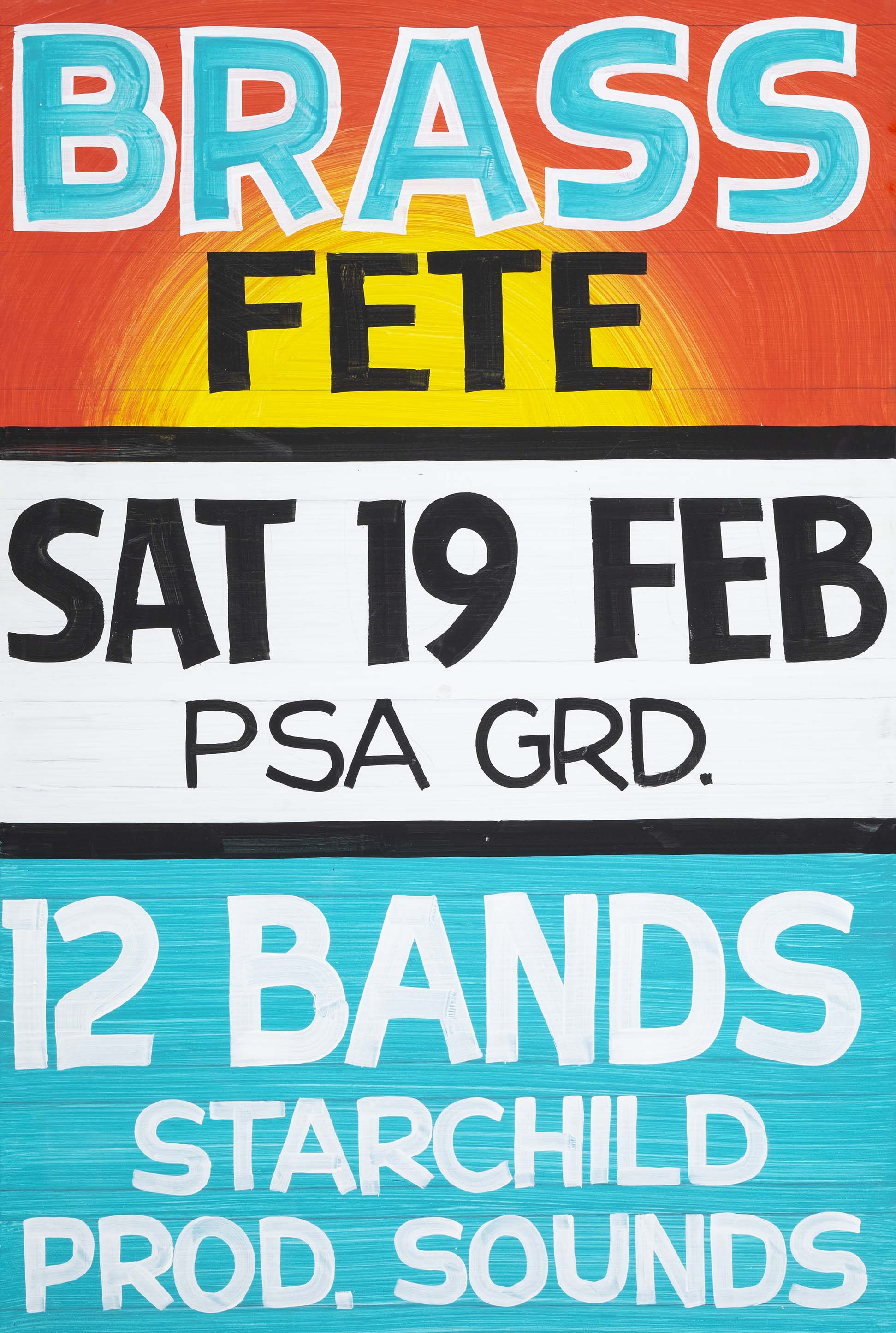 By Fete
Alphabetically sorted. Thumbnails are not to scale.

Videos are archival footage of the fetes and/or artistes promoted in the fete signs.
---
Army Fete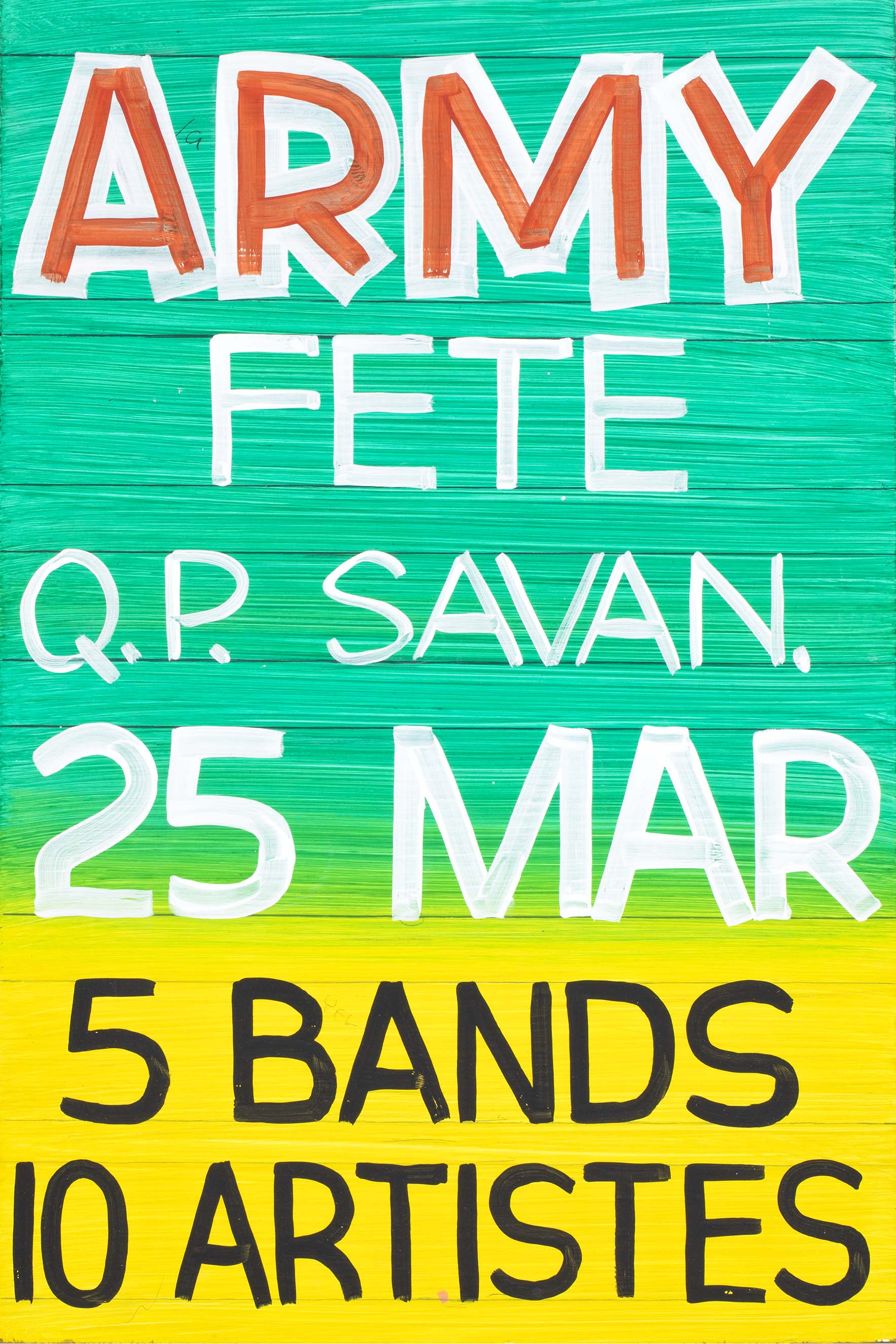 2a.
Army Fete (small)
16" x 24"
Emulsion paint and hardboard
2021

2b.
Army Fete (medium)
24" x 32"
Emulsion paint and hardboard
2021
---
Boxing Nite
3a.
Boxing Nite (small)
16" x 24"
Emulsion paint and hardboard
2021

3b.
Boxing Nite (narrow)
24" x 48"
Emulsion paint and hardboard
2021
---
Brass Fest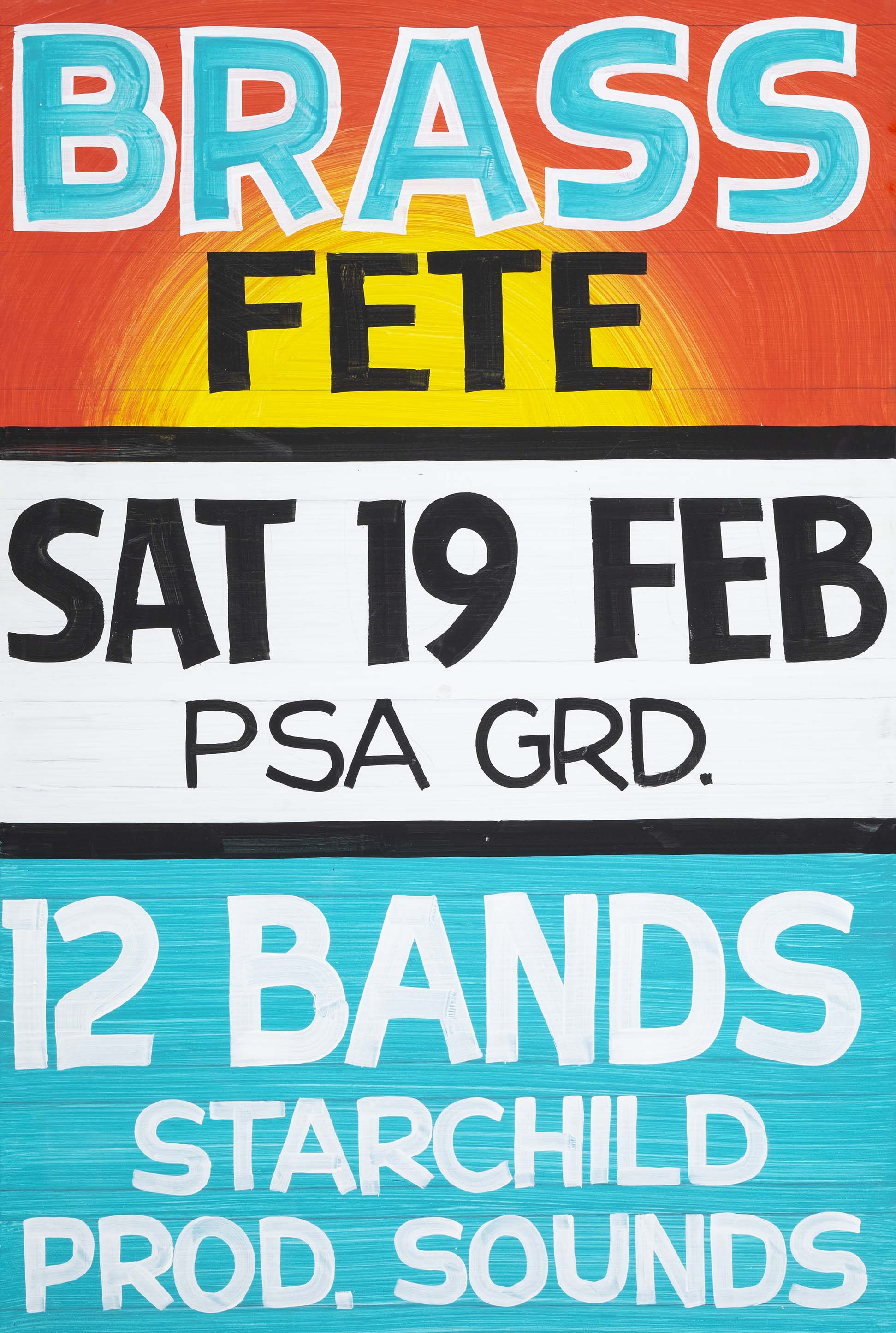 4a.
Brass Fest (small)
16" x 24"
Emulsion paint and hardboard
2021

4b.
Brass Fest (medium)
24" x 32"
Emulsion paint and hardboard
2021

4c.
Brass Fest (large)
32" x 48"
Emulsion paint and hardboard
2021

4d.
Brass Fest (narrow)
24" x 48"
Emulsion paint and hardboard
2021

---
Burrokeets Fete


5.
Burrokeets Fete (medium)
24" x 32"
Emulsion paint and hardboard
2021
---
Cool Down
6a.
Cool Down (small)
24" x 16"
Emulsion paint and hardboard
2021

6b.
Cool Down (medium)
24" x 32"
Emulsion paint and hardboard
2021
---
Fire Fete


7a.
Fire Fete (medium)
24" x 32"
Emulsion paint and hardboard
2021

7b.
Fire Fete (large)
32" x 48"
Emulsion paint and hardboard
2021
---
Licensing Fete

8a.
Licensing (medium)
24" x 32"
Emulsion paint and hardboard
2021

8b.
Licensing (medium)
24" x 32"
Emulsion paint and hardboard
2021

8b.
Licensing (large)
32" x 48"
Emulsion paint and hardboard
2021

---
PNM Fete

9.
PNM Fete (medium)
24" x 32"
Emulsion paint and hardboard
2021
---
Short Pants Fete

10.
Short Pants (large)
32" x 48"
Emulsion paint and hardboard
2021

---
Soca By D Silos

11a.
Soca By D Silos (small)
16" x 24"
Emulsion paint and hardboard
2021

11b.
Soca By D Silos (medium)
24" x 32"
Emulsion paint and hardboard
2021

11c.
Soca By D Silos (narrow)
24" x 48"
Emulsion paint and hardboard
2021

---
Soca Flare

12.
Soca Flare (medium)
24" x 32"
Emulsion paint and hardboard
2021
---
Soca in D Balisier
13.
Soca in D Balisier (small)
24" x 16"
Emulsion paint and hardboard
2021
---
Smash Up
14.
Smash Up (medium)
24" x 32"
Emulsion paint and hardboard
2021
---
Wasa Fete
15a.
WASA Fete (medium)
24" x 32"
Emulsion paint and hardboard
2021

15b.
WASA Fete (narrow)
24" x 48"
Emulsion paint and hardboard
2021
---
WITCO Fete
16a.
WITCO Fete (small)
24" x 16"
Emulsion paint and hardboard
2021

16b.
WITCO Fete (medium)
24" x 32"
Emulsion paint and hardboard
2021